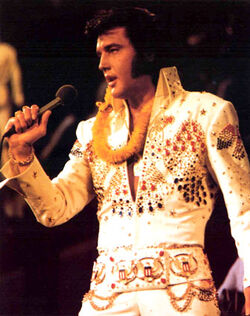 Aloha from Hawaii is a concert performed by American musician Elvis Presley that was broadcasted live via satellite on January 14, 1973. Over a billion people watched the concert worldwide, and it is the most watched broadcast starring an individual entertainer. The concert was shot at the Honolulu International Center (HIC) in Honolulu, Hawaii. The concert did not air in the United States until April 4, 1973 (the same day as the Super Bowl). This was the most expensive entertainment show at that time, costing over $2.5 million.
The concert featured an array of Presley's early hits, including "Hound Dog" and "Blue Suede Shoes", and his covers of songs such as The Beatles' "Something".
Band Members
[
]
Presley was accompanied by:
James Burton (lead guitar)
Charlie Hodge (acoustic guitar/vocals)
Glen Hardin (piano/keyboards)
Ronnie Tutt (drums)
John Wilkinson (rhythm guitar)
Jerry Scheff (bass)
J.D. Sumner & the Stamps Quartet (vocals)
Kathy Westmoreland (vocals)
The Sweet Inspirations (vocals)
Joe Guercio & his Orchestra
History
[
]
Presley's manager, Colonel Tom Parker, decided that he was going to air a live concert via satellite since it was impossible for Presley to tour in every major city. He initially wanted the concert to take place in late 1972, but was changed to 1973 since MGM was releasing its Elvis on Tour concert documentary. On September 4, 1972, Parker held a conference announcing the Presley concert would air on January 14 the next year. The show aided the Kui Lee Cancer Fund.
Presley arrived in Hawaii on January 9, 1973, having lost twenty-five pounds for the show, to begin rehearsing.
Concert
[
]
The concert was performed on January 14, 1973. Presley was wearing an eagle jumpsuit designed by Bill Belew. The show was directed by Marty Pasetta. He performed hits such as "See See Rider", "Steamroller Blues", "Hound Dog", I'm So Lonesome I Could Cry", and "Can't Help Falling in Love". After the concert ended, Presley performed five songs including "Hawaiian Wedding Song" and "Early Morning Rain" that would be included in the American broadcast.