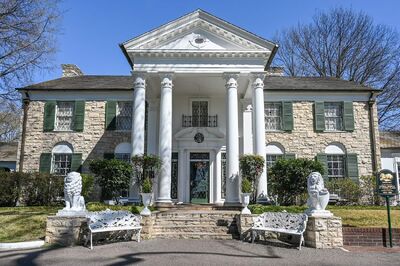 Located at
3764 Elvis Presley Boulevard
, that was originally known as
Highway 51
, in Memphis, was the last home of Elvis Presley from summer 1956 to the time of his death in 1977.
Introduction
Before It Was Home
Graceland was originally was a farmhouse built in the early 1860s on 500 acres in Whitehaven by the publisher S.E. Toof of the 'Memphis Daily Appeal' (1) or The Memphis newspaper 'Commercial Appeal'(2). The home was named after Mr. Toof's daughter Grace. The present building was built in 1939 by Dr. Thomas and wife Ruth Moore Thomas, niece of Grace Toof. It was constructed of Tennessee and Mississippi limestone (3) or from Tishomingo Count, in Mississippi (4). Built in the Georgian colonial style, with Corinthian columns on the front portico.
The house was used for the services of Christian Graceland Church, by The Moore's daughter, Ruth who was a professional musician.
The House Itself
Graceland is a two-story house, sitting on a hilltop with a row of pin oaks leading up to the house, and sweet gums, sycamores, weeping willows, and magnolias growing across all 13.8 acres of land. The door is framed by four columns supporting a classical pediment. The surrounding area consists of a barn, and a small smoke house. Elvis renovated the buildings and grounds extensively, painted the exterior blue and gold – the mansion positively glows at night –and added the Trophy and Jungle Rooms. He built the stone fence and wrought iron gate, other outbuildings, a carport, a swimming pool and a bathhouse, a garden, and a racquetball court. Graceland would ultimately have 23 rooms-eight of them bedrooms – plus eight full bathrooms and four half-baths.
For more detailing on the outside of the house, please refer to Section: Entering the Gates (1) Memphis Daily Appeal, referred in the book, "Complete Idiot's Guide to Elvis"
(2) Commerical Appeal referred in the book, "Elvis And You"
(3) Tennessee and Mississippi limestone referred in the book, "Complete Idiot's Guide to Elvis"
(4) Tishomingo Count, in Mississippi referred in the book, "Elvis And You"

Exterior
The Wall
Graceland sits on 13 ½ acres. The wall surrounding the estate is made from Alabama fieldstone. It's sometimes referred to the "Graffiti Wall" because visitors write sentiments to Elvis. A crew cleans the wall regularly with a pressurized water system, allowing for new round of messages.
The Gates
The wrought iron gates at Graceland, among the most famous in the world, show two guitar players and musical notes. Now on each anniversary of Elvis' death, thousands of fans gather at the gates to honor the King's memory and hold the Annual Candlelight Service during Elvis Week. See Elvis Week section
The Smokehouse
During most of Elvis' time at Graceland, the historic brick smokehouse, once used to cure meats, was utilized for storage. For a short time, however, Elvis and friends used it as a gun firing range, standing outside and firing at a target outside.
The Racquetball Court
In 1975, advised by a doctor to exercise more, Elvis constructed a 2,240-square foot Racquet ball building. A lower lounge has furniture, a pinball machine, a bar, and weight-lifting equipment. Located upstairs is Elvis' private dressing room, with a shower, bath, Jacuzzi, and massage table, plus a second dressing area for friends (off-limits to visitors).
The racquetball building also has a special display area, with 110 gold, platinum, and multi-platinum albums and singles, posthumously awarded to Elvis on August 12, 1992, the 15th anniversary of his death, by RCA and the Recording Industry of America (R.I.A.A.). in addition, RCA presented a nine-foot, etched-glass trophy, recognizing Elvis as "the Greatest Recording Artist of All Time"
The Barn
The beautiful wood barn, now painted a stately white, was part of Graceland when Elvis bought the property. He used it as a stable for horses and mules.
His favorite horse was a golden palomino quarter horse named Rising Sun. for a time, "House of the Rising Sun" was written on the barn door. Another favorite was a Tennessee Walking Horse named Bear.
The Meditation Garden
The Meditation Garden surrounded by a circular brick wall with a columned walkway and a fountain at its center, was built in 1963 as a place of retreat for Elvis. It's come to be a place of pilgrimage for Elvis devotees. On October 2, 1977, the bodies of Elvis and his mother were moved to Graceland from Forest Hills Cemetery by his father. Vernon and his mother Minnie Mae have also been buried there. Although elvis' twin Jesse Garon rests in Tupelo, there is a plaque honoring him. The Presley family monument – a statue of Jesus with two angels – was also brought to the garden from Forest Hill Cemetery.
Interior
The Living Room
The bisque-colored living room (where the funeral was held) has mostly white furniture with a long couch and two arm chairs. The long black, gold, and glass coffee table matches the "sunburst" clock, hanging on the mirrored wall over the marble fireplace. An open doorway to the music room if flanked by stained peacocks. – Referenced from 'The Complete Idiot's Guide To Elvis, by Frank Coffey.
The Dining Room
For most of Elvis' time at Graceland, the dining room had blue, white, and gold color scheme (as it is today), but in 1974, it was redone in red. Red curtains were also sometimes at Christmas time, since this is where Elvis had the tree set up – behind where he sat at the head of the table and in front of the picture window. Wall mirrors give the room a larger feel. Dinner at Graceland was usually served at 9 or 10 PM (although Elvis' eating schedule was erratic). Elvis and his friends sometimes used the dining room to play poker.
The Music Room
In the gold-curtained music room stood a piano (three different grands or baby grands over the years)> Elvis was a pianist as well as a guitar player, and often entertained friends and family in this room. The wall mirror was moved here from the Presley's house on Audubon Drive where they lived before buying Graceland.
The TV Room
A total of 16 television sets were spread throughout graceland at the time of elvis' death. Three of them were wall-mounted in the TV room, as Elvos liked to watch three sporting events at once. (Elvis had also heard the president lyndon Johnson watched all three networks simultaneously.
The TV Room also held stereo equiptment. A built-in jukebox played Elvis' collection of 45s. His album collection was also in the room, including gospel, R&B, country, pop, jazz, classical, and opera. The hi-fi equiptment in the TV room was wired to speakers through Graceland.
A panel near the bar opened to reveal a movie projector, which was operated from a adjoining projection room. Elvis had a collection of featured films and home movies, as well as 16mm prints of all his own films.
The room was decorated for the last time in 1974 with predominantly chrome and glass themes. On a wall painted yellow, white, and blue is a lightning-bolt design which Elvis used in conjunction with his TCB logo.
A vinyl yellow bar was used in entertaining company. Company is for Elvis' family, local officials, musicians, and women.
The Home Office
The office with metal furniture very typical for the 1950s, was run by Vernon Presley, with a staff of secretaries. It was largely used for house hold business and to answer fan mail. Elvis had both green and red telephones throughout Graceland, green for multi-line system and red for an intercom system.
The Upstairs
Currently the upstairs section of the house is block off for visitors. Upstairs contains the master bedroom, including Elvis', his mothers, and Prisilla's and Lisa Marie's. Also up stairs are two full bathrooms (one of them which Elvis died in). These room are block due to to give respect to the Presleys.
References
"Complete Idiot's Guide to Elvis", by Frank Coffey. (c)1997 Jeff Coffey, Alpha Books.
"Elvis And You", by Laura Levin and John O' Hara. (c) 2000, Prodigee.
External Links
Elvis.com - The official Elvis and Graceland Site